Businesses that rely on outbound calling always strive to ensure that they're making their calls efficiently, regardless of their industry. From real estate businesses making cold calls to business process outsourcing (BPO) firms, everything comes down to placing quality calls with little to no downtime while fielding incoming calls with the same focus and speed. The technology has to support this goal, which is why it's important to use dialer software that eliminates dead time and repetitive tasks.
What is BatchDialer?
BatchDialer is a feature-rich auto dialer designed for solopreneurs, small teams, customer service departments, and call centers. It was designed to provide as many tools as possible in one platform and has quickly made inroads across numerous industries, including collections, healthcare, real estate, retail, and roofing. The intuitive user interface makes it easy to set up the features you need and turn off the features you don't.
How Does BatchDialer Work?
Dialers come in a few varieties with different levels of sophistication. BatchDialer offers both preview and predictive dialing modes to meet the unique needs of the teams and industries that rely on the platform.
Preview dialers offer details about the lead you're contacting and are ideal for making calls in which you need some information in order to prepare for the call. For example, if you're a real estate wholesaler, the preview dialer is helpful because it gives you time to review any data you may have about the property which you can speak to specifically in the call. Preview dialers also give the caller more leeway with dialing, allowing them to decide when to initiate the call and take a moment to do some research before dialing.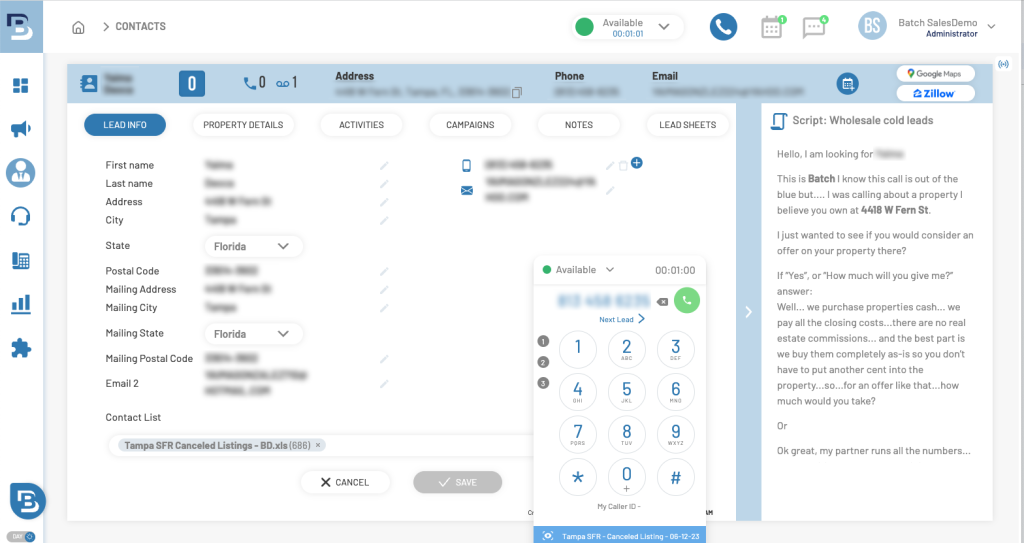 The BatchDialer preview dialer allows you to view in-app property details prior to each call.
Predictive dialers are ideal for high volume outbound calling. Once you've uploaded your lead list, the predictive dialer starts dialing automatically. You're able to control the speed of the queue while choosing the number of lines you want to work at once. Multi-line dialing allows you to work a lead list considerably faster than single line dialing while reducing agent wait time and increasing the number of conversations. Once the lead answers the call, their property record will appear in the software for the agent to reference. After a call is completed, the dialer auto dials the next round of leads.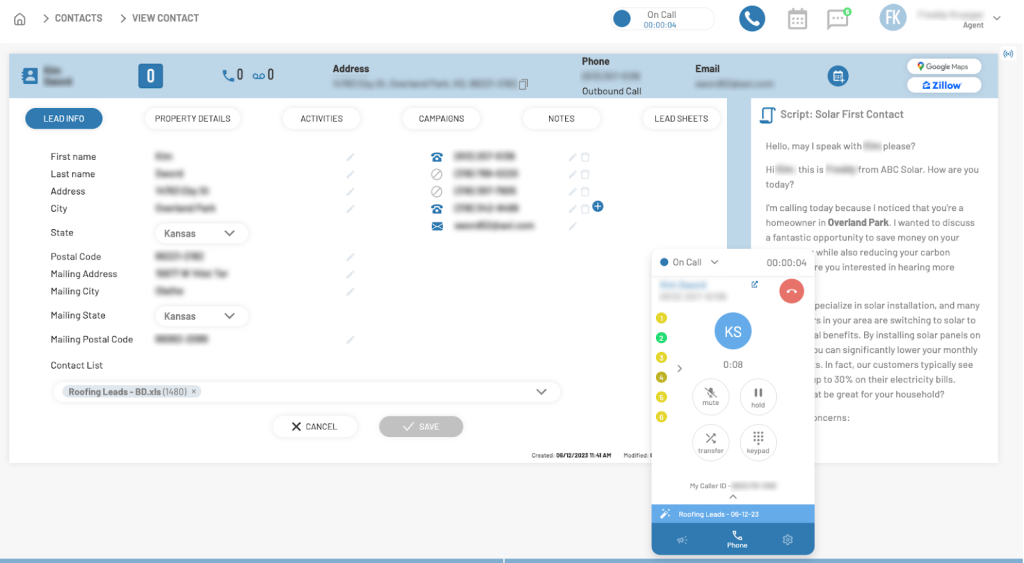 The BatchDialer predictive dialer can dial up to five lines simultaneously.
The important thing to remember about dialers is that the more sophisticated models can generally perform all of the same features as the less sophisticated ones. For instance, a multi-line power dialer will still deliver pared-down performance. However, the opposite is not true, so when investing in dialer software make sure that you're aware of what features are included. Feature-rich dialer software makes it easy to scale as you add users, which means you won't need to move to a new system when your business grows.
Key Features of BatchDialer
You have many options when choosing a dialer, and many mid-tier packages are competitively priced. There are huge price differences between the top and bottom end, though, making it important to understand what each dialer offers. While it's tempting to save money, will your economy starter package for a single user still be as cost-effective when you need service for yourself and your associates? What about when you're ready to scale up and make those first few associates team leaders?
BatchDialer strives to offer valuable features to every customer, regardless of the number of users licensed under the account or the pricing tier of their subscription package. These key features are available when you need them:
Simple campaign setup and selection
Customizable rule sets for dialing and redialing your lists
Litigation scrubber
Call recordings
In-app softphone
Live agent monitoring
Phone number reputation monitoring
Auto number replacement
Simple, detailed team dashboard displays
Preview and predictive dialing modes
With over 50 features and utilities included in BatchDialer's platform, it's not feasible to list them all. This sample shows how easy it is to set yourself up for success when you work your list and how easy it is to support your team the same way.
Making the Most of Your Cold Calling Leads
Real estate prospecting is one of the fastest-growing sectors using dialer software because of the investment boom over the last few years. To get the most out of your leads, you need to know how to approach a cold call, and train your team to do the same. Here are five crucial tips to help you make the most out of every call while you work your leads:
Spray and pray cold calling is dead in any industry, but building a lead list through opt-in channels like ads is very effective for realtors and real estate investors alike
Know when to call if you are not working a full-time call center; most real estate prospects answer in the hour before noon and before five, when winding down for the day
Overcome nervousness or reluctance by working with a proven, approachable script that appeals to real estate prospects or other leads
Figure out your financial incentive to stay motivated by calculating how many calls it takes on average to convert to an actual deal, then how much that deal makes you
Set your environment up for success by working in a setting with minimal distractions and a lot of comfort elements like clear, soft lighting, and ergonomic furnitures
Working with a proven script is a good idea, but remember that no template is perfect. While the strategy of the communication may be tried and true, it still needs the details that provide your personal touch. Friendly greetings and closings should reflect your actual choice phrases and mannerisms, and of course, you need to fill in your details and find the appeals that reflect the potential prospect's motivations.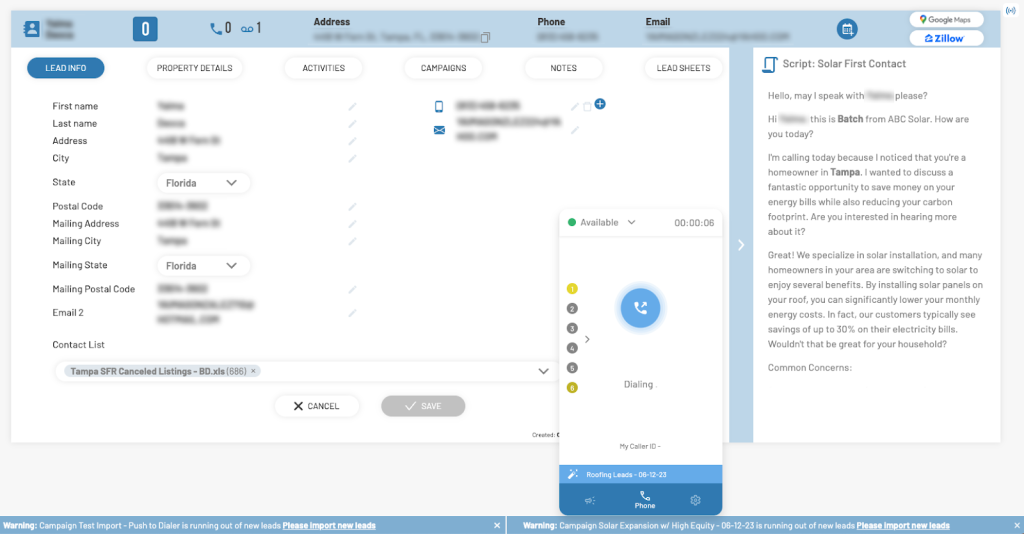 Get Set Up for Success
Supporting your team with training that emphasizes these best practices and scripts are vital steps to making the most of your BatchDialer experience. That training extends to BatchDialer's onboarding support to ensure that everyone in your operation understands how to get the most from the dialer and which features are most pertinent to their roles.
BatchDialer's onboarding helps users explore how to fully utilize features such as agent monitoring, dashboard management, and other backend features that support your team's success. Empowering your team with the technology to drive performance and the knowledge of how to work with BatchDialer's features will maximize their ability to bring in leads that convert.