Imagine this– you need your real estate wholesaling business to grow exponentially and so you decide to go for cold calling. However, that requires you to make 50-100 calls a day and that doesn't end here, the process also requires finding numbers, voicemails, and busy signals as well. Sounds crazy, right?
In order to just focus on your prospects and chop off all the unnecessary activities, you need a helping hand. And that's what a sales dialer or an online predictive dialer is. But let's understand more about a sales dialer in some more detail.
What is a Sales Dialer?
An online predictive dialer or sales dialer is a tool that eliminates the manual and time-consuming process of finding numbers, and dialing the prospects' numbers– they automatically and accurately dial the numbers on behalf of the call center agents allowing them to solely focus on the conversation with the prospects.
So to put it simply, a sales dialer-
Compiles a list of prospects and their numbers.
Automatically dial the numbers.
Connects the agents with the only ones who are available to talk.
Now that you know what exactly a sales dialer is, it's time to explore how a sales dialer works.
How Does a Sales Dialer Work?
The present-day sales dialer, also known as predictive dialers, integrates with your CRM or has an in-built CRM that helps you to gain deep insights and allows your agents to save a whole lot of time. Furthermore, sales dialers can automatically limit the number of abandoned calls and are built to comply with all the local regulations related to cold calling.
So this was all about sales dialers but did you understand how it can help your real estate wholesaling business to grow?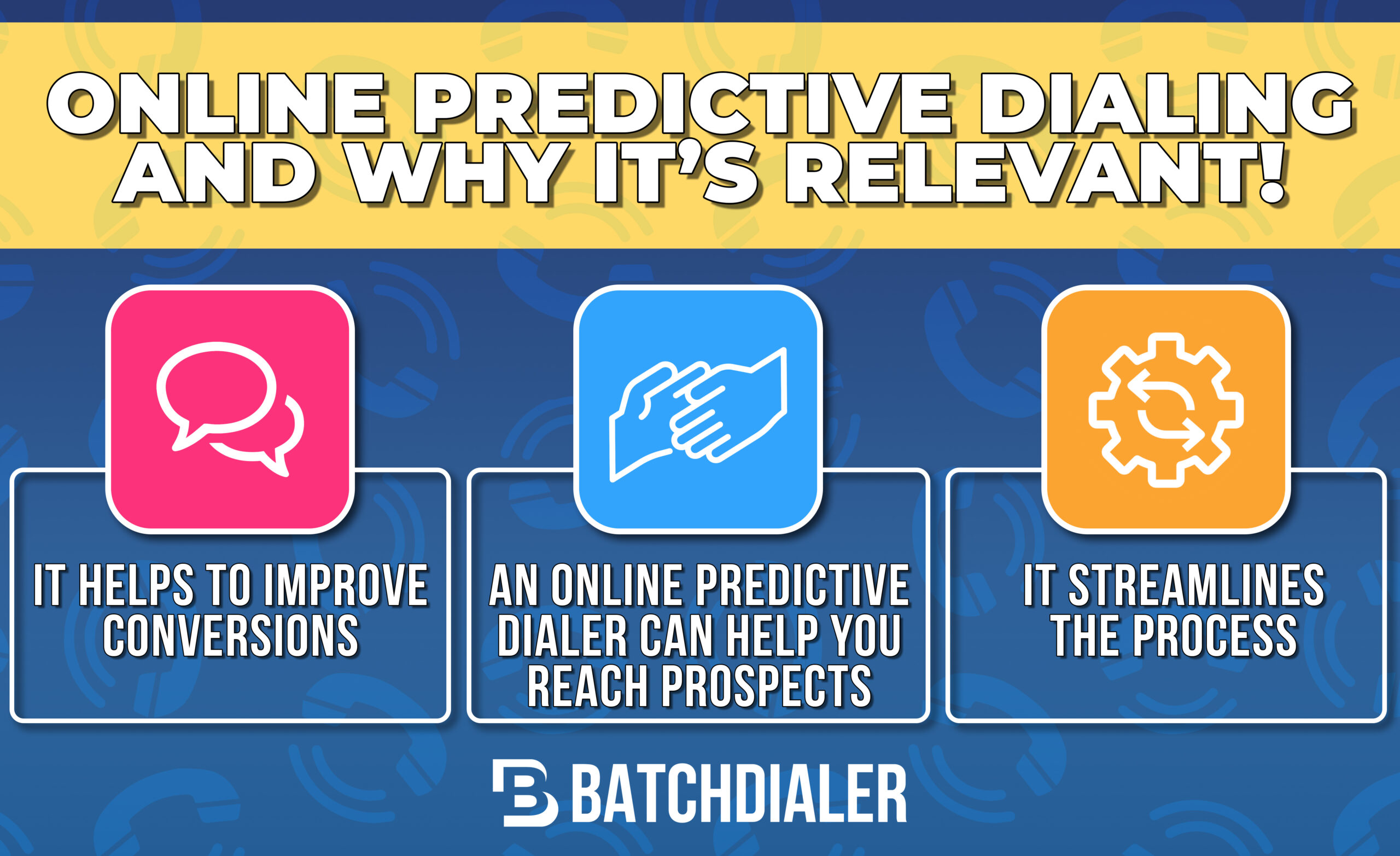 Here's how-
Why Do You Need a Sales Dialer?
An Online Predictive Dialer Can Help You Reach Prospects
Predictive dialers can do more than just dial numbers. Besides calling, they connect you only with those people who are ready to talk. This means they first check for a human voice and then only connect the prospect with an agent. Thus, saving a lot of time and energy.
It Helps to Improve Conversions
When you cold call people, sometimes the phone is busy or the prospect tells you to call back later but you forget to dial those numbers. With a sales dialer, you always get back to those people.
A sales dialer allows call agents to retry abandoned calls after some time as per the result of the initial call attempt. They can be programmed to try various retry strategies for various results. So this means that a sales dialer won't allow you to miss out on leads.
It Streamlines the Process
Here's the thing– a sales dialer should be integrated. It can easily be integrated with your lead management software, which in turn can help your team blacklist wrong or inaccurate numbers. Furthermore, it can help to streamline contact information, lead history, and data.
Additionally, when integrated with a CRM platform, your predictive dialer can manage each prospect and customer journey across the buyer's cycle.
To Conclude
So this was all about a sales dialer and now that you know how it works and helps your business grow, it's time for you to check out a few dialers and choose the best one for your business.