Tracking your inbound call center metrics is the only way to know what processes and agents are working and which ones are falling short of reaching goals. Without the details provided by your key performance indicators, you will never know what needs to be changed, updated, or eliminated to increase the conversions in your Inbound call center.
Inbound Call center metrics, along with the level of satisfaction of your customers, is what you should be using to grow your business. Make no mistake about it. There is a fine line that you will need to walk to ensure that customers are happy, and you are hitting the numbers that you need to remain successful. But the following five metrics will provide both an increase in customer satisfaction and the productivity of your agents to create a win for everyone.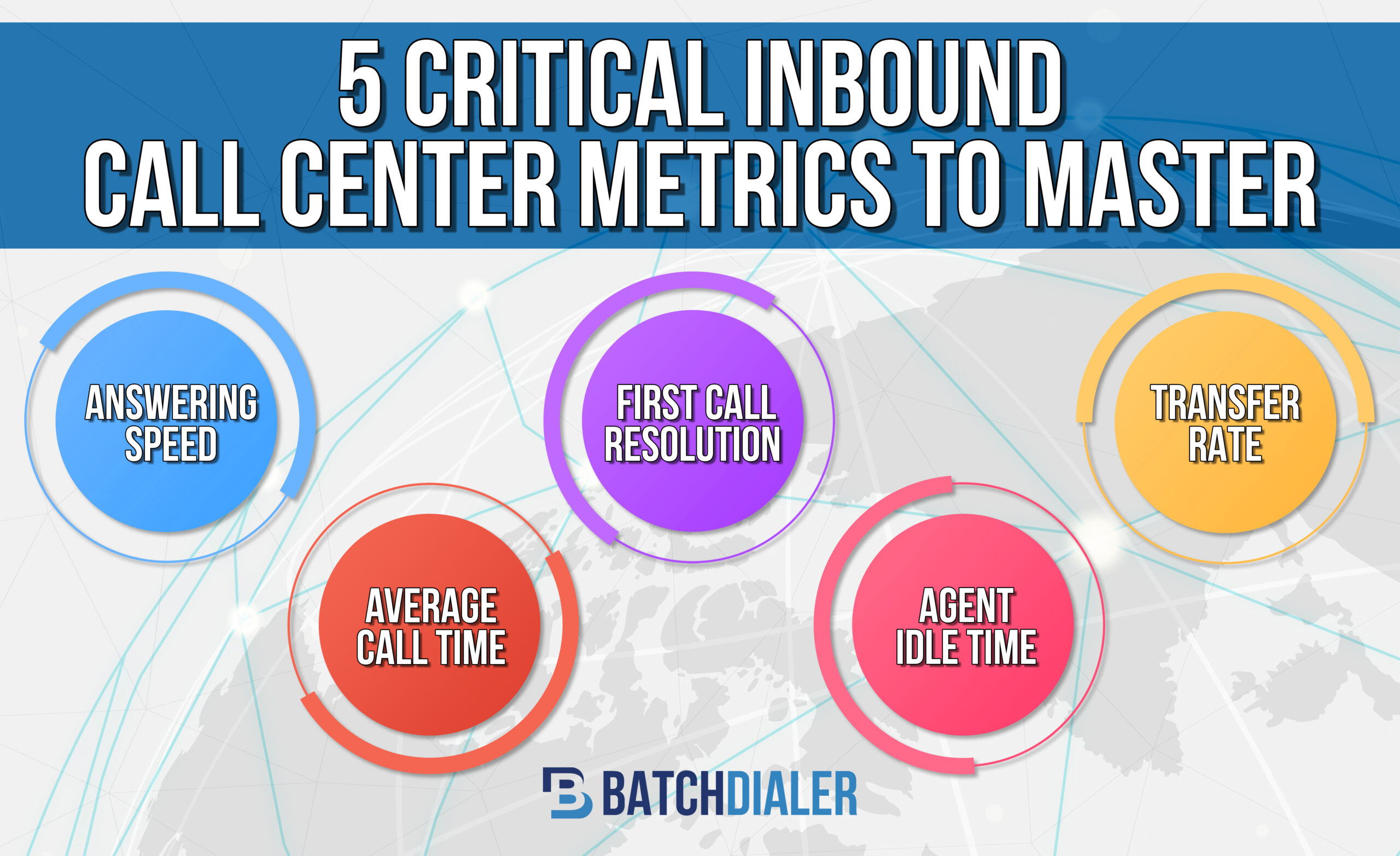 Here are the Top 5 Critical Inbound Call Center Metrics for Success.
ANSWERING SPEED
Think about your own experience calling a business. You don't want to sit and wait for someone to take your call. You want to know that the company values your business and your time. And the only way to demonstrate that is to answer your call quickly. If you are using an automated system to route calls, you need to have agents answering the calls as soon as they are routed. Excellent customer service starts the minute that a customer calls your business. And a long wait to speak to an agent sets the tone for many consumers. Fast answering times mean customer appreciation to most people.
First Call Resolution
A fast answer is only the first step to quality customer service. Consumers want resolution on the first call. So agents need to be knowledgeable and capable of solving client concerns and issues. Not only is the customer happy that the problem is corrected in a single call, but it also makes your agents more productive and efficient. Callbacks take time. And time is money. First call resolution eliminates both issues.
Transfer Rate
Transfer rate is an essential part of first call resolution. You want the first agent who speaks to the customer to be able to fix the problem. If an agent is often transferring calls to someone else for resolution, that agent needs more training. Customers want to speak to a person who can answer questions and correct issues, not just someone who will pass the call along to someone else. And you don't want to be paying an agent who is not producing results and fixing issues.
Agent Idle Time
Idle time is basically the productivity of your agents. Agents who are not on calls are not helping your company grow, correct issues, or increase customer satisfaction. All they are doing is costing you money. Idle time across your staff is a sign that you could have management issues or be overstaffed, but high idle time by one or two agents means that there are people not pulling their weight.
Average Call Time
Incoming calls are most often regarding a question or concern. Your goal should be to provide the answers and solutions that your customers want as quickly as possible. Therefore, low call times are desirable. Agents who have consistently low call times are the ones who know the answers to questions, have the proper level of training, and are benefiting your business the most.
There are several excellent options for inbound call center tracking software that will shed light on what your call center agents, are doing well and which areas need improvement. The information provided by your KPIs can also help you to determine which agents are doing the most work. And who you should consider rewarding with a raise or promotion within your organization.